Strikers march through Swindon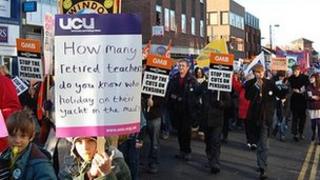 More than 1,000 workers have marched through Swindon as part of a national strike against proposed pension changes.
Strikers and supporters met at Canal Wharf and marched along Commercial Road to a rally at the MECA theatre.
More than 22,500 public sector workers in the county have gone on strike, union officials said.
The government said the strikes would achieve nothing and it would be better for unions to continue pension talks.
Across the region, 175 schools were closed or partially closed.
In Trowbridge 100 people gathered for a rally outside County Hall and in Chippenham 200 people attended a protest meeting at the Chippenham Town FC.
They joined more than two million workers across the UK who have walked out over proposed pension changes.
Secretary of State for Education Michael Gove said public sector unions wanted "to provide a platform for confrontation just when we all need to pull together".
He also said it was "unfair and unrealistic" to expect taxpayers to foot the increasing public sector pensions bill.
Contingency plans
Nigel Costley, regional secretary of the South West TUC, said: "This is the largest protest by trade unions for a generation and is a clear demonstration of how strongly workers feel about the unfair and unnecessary changes to their pension schemes that the government are attempting to impose."
The Trades Union Congress (TUC) estimated that more than 6,700 workers in Swindon and 15,800 in the rest of Wiltshire took strike action.
A TUC spokesman said he was unable to confirm the total number of public sector workers in the county but insisted the 22,500 out on strike were the "majority".
Key services in the county were expected to be largely unaffected and contingency plans are in place to minimise disruption to services such as hospitals, courts and leisure centres.
A Wiltshire Police spokesman said the force was confident the plans it had in place would allow it to deliver a "high-quality service" to the public.
A Wiltshire Council spokesman said: "It is expected any disruption to services will be kept to a minimum."
A number of leisure centres, including Five Rivers, Amesbury, Tisbury, Devizes and Marlborough, ran special activity days from 08:30 to 17:30 GMT for children affected by school closures.