Ex-footballer star Phil King 'cashed scam cheques'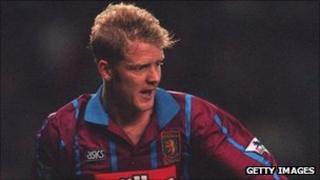 A former Premier League footballer cashed cheques from the victims of a criminal building scam, a court has heard.
Oxford Crown Court heard cheques for thousands of pounds were made out to Phil King, 43, who cashed them at the pub he runs in Swindon.
Mr King, of Rodbourne, Swindon, played for clubs including Swindon Town, Sheffield Wednesday and Aston Villa.
He denies six counts of converting criminal property.
Mr King runs the Dolphin Hotel in Rodbourne, where the cheques are alleged to have been cashed.
The prosecution claims a scam was carried out by two contractors, David Merriman and Trevor Bateman, whose business AS Contractors undertook building work that was said to be "poorly performed, overpriced or simply unnecessary".
Mr Merriman, 49, of Clifton, Nottinghamshire, and Mr Bateman, 54, of Toothill in Swindon, are between them charged with 29 counts of fraud, engaging in an unfair commercial practice, transferring criminal property and engaging in a commercial practice that was aggressive.
They deny the charges.
'Taking a risk'
The court was told that after cashing the cheques, Mr King gave the money to Mr Bateman and Mr Merriman, who would often give it to their workmen who would spend it on drink in Mr King's pub.
The court heard their clients were often elderly women, some of whom lived alone.
Nigel Lickley QC, prosecuting, said: "We say Mr King knew or believed [the money] was a result of criminal activity."
The court was told that when questioned, Mr King said he had cashed up to £40,000 of cheques for the contractors "but didn't know their surnames".
"He accepted he might have been taking a risk," Mr Lickley said.
"He said it was good for his business in running the pub. He said he was given a few pounds each time for cashing the cheque.
"He said on a few occasions it did cross his mind that something might not be right."
Mr King was part of the Swindon Town squad which won promotion from Division Three in 1987, before being transferred to Sheffield Wednesday.
He moved to Aston Villa in 1994 where he scored the winning penalty in a Uefa Cup tie against Inter Milan.
The trial is expected to last four weeks.