Appeal after NHS refuses to fund Swindon boy's operation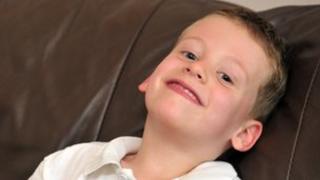 The parents of a six-year-old boy from Swindon are to appeal against a decision by the NHS not to fund a life-changing operation for him.
Robbie Davies has cerebral palsy and uses a wheelchair, but an operation at Bristol's Frenchay Hospital costing £23,000 could enable him to walk.
His mother, Kelly Davies said: "He deserves a chance to walk and they're stopping him."
An NHS Swindon spokesperson said such decisions are "not taken lightly."
They added. "Although we are unable to comment on individual cases, the [medical expert] panel considers implications of providing funding on a case by case basis.
"They look at the evidence put before them such as the success of a treatment, the entire population served and resources available."
Fundraising
Mrs Davies said she and her husband Rob would appeal the decision.
"All I want is the best for Robbie at the end of the day," she said.
Frenchay Hospital launched the pioneering neurosurgical procedure known as Selective Dorsal Rhizotomy (SDR) in May.
Previously the Davies family had raised £9,000 towards a $40,000 operation to be carried out in the USA. They have vowed to continue fundraising for the operation if their appeal against the NHS decision is unsuccessful.