Vintage Marlborough postcards fetch £740 at auction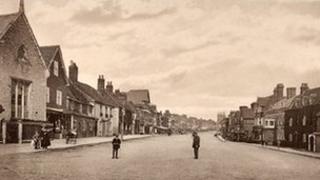 A collection of 19th Century postcards of the Wiltshire town of Marlborough has been sold at auction in Pewsey.
The 200 postcards, belonging to 80-year-old collector Noel Waite from nearby Manton, went for £740.
Mr Waite started the collection more than 60 years ago out of a love for the town, and is hopeful the postcards went to another aficionado.
He said: "I'd like them to go to a youngster starting a collection or a local chap who wants to preserve them."
The collection of postcards was also offered for sale with an album of photographs and slides of old Marlborough scenes.
Mr Waite, a retired senior design draughtsman and former borough councillor, began collecting postcards in the 1950s.
'It's paradise'
He said: "I got them from friends and elderly people who got me interested. This was before the dealers became involved."
Mr Waite grew up just outside Marlborough in the village of Lockeridge and has had a life-long passion for the town.
"I was born in 1931 in a small village about two miles away so my whole life was centred in Marlborough. I think it's a very pleasant town to live in.
"Obviously it has changed over the years, but not that much. As far as I'm concerned, it's paradise."
The postcards depict scenes in and around the town including Marlborough Mop Fair on the High Street and the Jubilee celebrations of 1887.
Mr Waite, who for years exhibited the postcards and gave talks at local historical group meetings, said the collection offered a valuable pictorial record of the town.
On why he decided to sell the postcards, Mr Waite said: "I'm 80 now and have had an enormous amount of fun in collecting but I'm beginning to offload years of stuff that has been hoarded.
"I'm not interested in the money. I just hope they go to someone who will appreciate them as I did."
The album of postcards and the photographs together with the slides were sold as two lots at the Jubilee Auction Rooms.