Hours cut at Swindon Honda plant 'until December'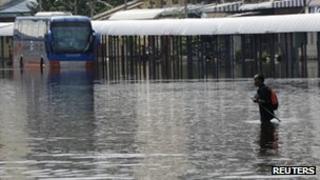 A reduction in hours at the Swindon Honda plant, because of supply problems caused by flooding in Thailand, is likely to last until December.
The floods stopped production at the Thai factories that make some electronic components for Honda cars built at the Wiltshire plant.
Mass production of the Civic was due to start but has now been put back.
The reduction in hours - to three half-shifts per week - is expected to last at least another two weeks.
Paul Ormand, from Honda, said the company would restart production at full levels as soon as possible.
Parts shortage
"We are monitoring it on a daily basis... we expect that to continue for two or three more weeks," he said.
In August, Honda reported an 88% plunge in first-quarter profits after the 11 March earthquake and tsunami in north-east Japan.
This caused a shortage of car parts and disrupted its supply chain.
In April, workers at the Swindon factory scaled back production to two days a week.
They stayed on full pay during this period and built up a balance of hours to owe the firm and returned to full-time work at the beginning of September.