Deserted Imber village holds remembrance service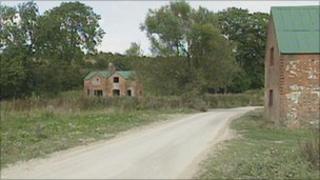 A Wiltshire village that was deserted after being taken over by troops for training during World War II is to hold a remembrance service.
People living in Imber, on Salisbury Plain, were evacuated in December 1943 and were never allowed to return.
The service will take place at St Giles Church which is one of the only buildings left standing in its original form.
The village will only be open to visitors for two hours on Saturday.
It will be the ninth time Imber has held a remembrance service since it was taken over by the Ministry of Defence (MoD).
The most recent previous service was held in 2003.
Fifty years ago, thousands of people marched into the village to protest at its continued use by the Army.
The MoD said the village still played a vital role in training troops for operations.