Charity appeals for kidney donors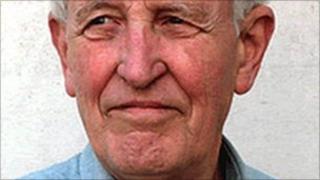 A new charity founded by a consultant from Gloucestershire is appealing for more kidney donors.
The charity, Give A Kidney - One's Enough, was the idea of 72-year-old Dr Chris Burns-Cox. Aware of the donor organ shortage, he donated a kidney to a stranger in 2010.
According to the charity, almost three million British adults would consider donating a kidney to a stranger.
Dr Burns-Cox said he wished he "had another spare kidney to donate".
He said: "I'm not the first person to give a kidney to a stranger but it seemed to me that we needed to tell the public that this is a possibility, that it's available and kidneys are very badly needed."
'Didn't need two'
According to the charity, there are 6,500 people on the waiting list for a kidney transplant, but only 2,500 transplants take place each year.
Talking about his decision to donate, Dr Burns-Cox said: "I had been a doctor for 50 years and was aware how enormously fortunate I had been in my own good health.
"And I just came to the conclusion that I didn't need two kidneys."
He said he had been told that the patient was doing "extremely well".
"I don't know exactly who he is, but I know his Christian name and he sent this thank-you note through the transplant co-ordinator.
"And the kidney specialist said the person's kidney function is as good as mine and mine is absolutely perfect - so the chap is doing very well."
A survey of 2,000 adults carried out in the summer by YouGov showed that 8% of the UK population would consider donating to a stranger.
"Our job now is not to persuade people to do it but to put the facts of the situation out there and if they then want to help a stranger they'll know where to come for information," Dr Burns-Cox said.