Swindon Town fans win campaign against white FA Cup kit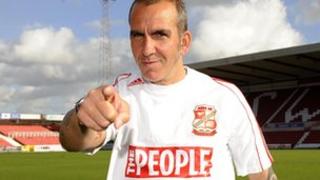 Swindon Town will play in a red FA Cup kit when they host Huddersfield in the FA Cup, after a supporters' protest.
More than 300 fans signed a petition to boycott the club's special white FA Cup kit, sponsored by The People. The paper uncovered club corruption in the 1980s.
The club was relegated two divisions as a punishment by the FA in the wake of the newspaper's revelations.
Lloyd Embley, The People editor, said the FA Cup shirt sponsorship was "certainly not intended to upset fans".
However the red shirts will still bear the logo of the The People.
In a statement, Mr Embley said: "Now that the draw has been made, I am delighted to be able to confirm that Swindon will be wearing red shirts, white shorts and red socks against Huddersfield on November 12th."
'Very sensitive issue'
Club chief executive Nick Watkins said the newspaper had "been in consultation" with the club on Wednesday.
"They said they'd received some response from fans in relation to the white shirt over the red shirt and felt that a red shirt is what Swindon would normally play in at home and therefore they would be prepared to reverse the decision from white to red," Mr Watkins said.
"We have got red shirts available and they will be the similar to the home strip."
Nigel Bennett, from the Swindon Town Supporters Club, said the paper's revelations had "hurt terribly at the time".
"It was a very sensitive issue to a number of fans but I think, 20 years down the line, it is really time to try and cast that aside now.
"And for the Town now to be playing in red, I'm sure that will be welcomed by everybody."