Daughter of David Hempleman-Adams joins Antarctic ski expedition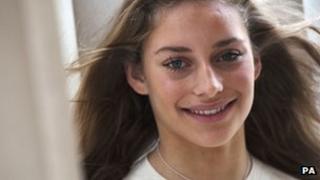 The 16-year-old daughter of the Wiltshire explorer David Hempleman-Adams is to join her father on an expedition to ski to the South Pole.
If successful, Amelia Hempleman-Adams will become the youngest person to ski to the Antarctic.
Amelia said: "I am not sure if I'll be able to sleep as it is 24 hour daylight at the South Pole and dad is a terrible snorer."
They plan to ski the last 97 miles to the South Pole over two weeks.
It would not be the first time one of Mr Hempleman-Adams's daughters has joined him on a polar mission.
'Harsh environment'
In 2005, Amelia's sister Alicia, then aged 15, became the youngest person to trek to the North Pole.
The latest challenge will begin 97 miles from the South Pole, at the spot where Sir Ernest Shackleton had to abandon his expedition in 1907.
Mr Hempleman-Adams said: "I am apprehensive about taking a teenager to such a harsh environment.
"It will be minus 30 on a daily basis, dropping as low as minus 60 with the wind chill.
"But Shackleton has always been a hero of mine and it will be wonderful to walk in his footsteps. It will be very special to share this experience with my youngest daughter."
Amelia will have to consume 8,000 calories a day to deal with the harsh conditions as the Antarctic is one of the coldest, driest and most windswept places on earth.
"I am frightened about the harsh conditions as I don't know what to expect, the cold, the wind... however, eating a lot of chocolate won't be hard for me," she said.
The pair will leave the UK on 18 November and fly to Chile, before going to the Union Glacier camp in the Antarctic where they will acclimatise for 14 days before starting their mission.