Imam sent to prison for abusing young girls in Swindon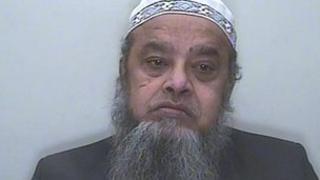 A man has been sent to prison for indecently assaulting three girls under the age of 13 when he was an imam at a Swindon mosque.
Ebrahim Yusuf Kazi, 67, of Regent Street, Gloucester, committed the offences between 1979 and 1985 at Broad Street mosque in Swindon town centre.
He was found guilty of five counts of indecent assault and sentenced to two years in prison at Swindon Crown Court.
Judge Euan Ambrose said this was the tariff when the crimes were committed.
He added that the sentence would have been longer under modern guidelines.
The judge also considered a letter to the court from Kazi's doctor which said he would die if he was sent to prison.