Chinese Ming-style moonflask vase 'may fetch £500,000'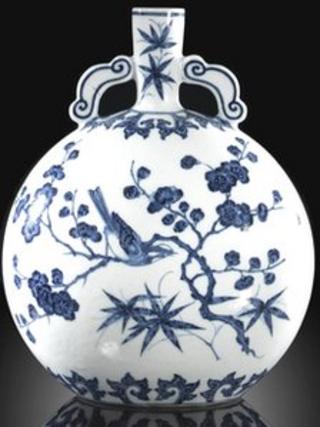 A blue and white Chinese Ming-style vase that arrived at a Wiltshire auction house in a cardboard box is expected to sell for £500,000.
The 11in (28cm) "moonflask" was created for the Imperial Qing Dynasty in the 18th Century, Woolley and Wallis auction house said.
The Salisbury-based firm said it had been copied directly from a Yongle original, now in the British Museum.
The seller, a woman in her 80s from west Dorset, does not wish to be named.
The moonflask is thought to have been acquired by the woman's father, Capt Edward Watkins Whittington-Ince between 1925 and 1927, when he served as commander-in-chief of the East Indies.
And, according to Kate Williams at Woolley and Wallis, it was "treasured as a family piece".
"[The owner] had no clue of its worth until she took it along to a valuation event - organised by the WI I think - in her local village," she said.
'She was astonished'
"The expert there realised it was a quality piece and told her to get in contact with us.
"And she brought it in to us in a cardboard box wrapped in a blanket."
John Axford, the auction house's Asian art specialist and regular expert on the BBC's Antiques Roadshow, confirmed it was a rare Ming-style moonflask of the highest quality.
"When she was told the likely value was £500,000 she was astonished," said Ms Williams.
"It normally takes a bit of time for news like that to sink in but now she's decided to sell it."
The vase will be sold at auction on 16 November.