Swindon Town fans call for boycott over The People sponsor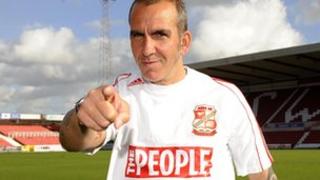 Swindon Town fans are boycotting the team's FA Cup kit as it is sponsored by The People newspaper, which uncovered club corruption in the 1980s.
The side was relegated two divisions as a punishment by the FA, after the newspaper revelations.
More than 300 fans have signed an online petition to boycott the kit.
Club chief executive, Nick Watkins, said it was not being disrespectful of its past. The paper has not commented.
"People move on - the journalists who were involved at that time, the owners of the newspapers at that time. Everything has changed," said Mr Watkins.
"It's not as if the club is in any way ignoring its heritage, but we are some 20-plus years on from that incident."
'Stupid decision'
On the online petition page, one fan called the sponsorship deal "a stupid decision on the club's behalf".
Another wrote that it was "the history of our club being exploited for a few quid".
However, other supporters think fans should look to the future rather than dwell on the past.
Nigel Bennett who runs the Swindon Town Supporter's Club said: "We all felt the pain at the time but I really do think it's time to cast that aside now, 20 years down the line."