Thailand floods hit production at Honda in Swindon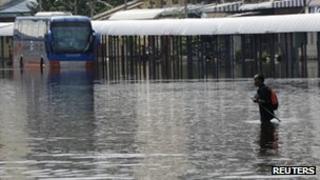 Staff at Honda motors in Swindon have been forced to work a three-day week because of flooding in Thailand.
The floods have stopped production at the Thai factories that make the electronic components for Honda cars built at the Wiltshire plant.
A Honda spokesman said: "We are working closely with our suppliers in Thailand and throughout our global network to re-establish the flow of parts."
Mass production of the Civic was due to start but could be delayed by a month.
Staff have been told they might have to continue on shorter hours for the next fortnight.
Japan earthquake
Unite spokesman at Honda, Jim D'Avila, said mangers in Thailand have got a "virtually impossible job".
"It coincides with the launch of a new Civic, so this couldn't have come at a worse time," he said.
The company has said it is too early say how long it will take before production returns to normal.
In August, Honda reported an 88% plunge in first-quarter profits after the 11 March earthquake and tsunami in north-east Japan.
This caused a shortage of car parts and disrupted its supply chain.
In April, workers at the Swindon factory scaled back production to two days a week.
They stayed on full pay during this period and built up a balance of hours to owe the firm.
They returned to full-time work at the beginning of September.