Somerset rescue centre in TV appeal for owl companion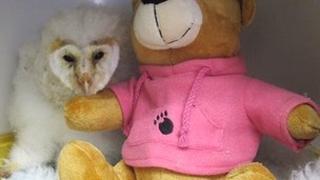 A baby barn owl, abandoned in Somerset, is to be joined by two new companions following a television appeal.
Casper, a six-week-old fledgling, is currently being reared for release into the wild at the Secret World Wildlife Rescue Centre near Burnham-On-Sea.
To improve Casper's chances of survival in the wild, an appeal was made on BBC's Autumnwatch programme for a young owl to be reared and released with him.
Since then two companion baby owls have been located in Swindon and Oxford.
Pauline Kidner, the rescue centre's founder, said the abandoned baby owl had been handed in to a veterinary surgery near Langport, two weeks ago.
"Sadly they didn't find out where he had come from so we just hope that there were no siblings there that also needed help," she said.
"But he was only about three weeks old, when he came in, and was starving and very thin - so he wouldn't have made it through the winter."
Hatched "six months too early or six months too late", the fledgling owl is currently being reared at the rescue centre ready for release.
"Obviously we're going to release him but it won't be until the spring," said Mrs Kidner. "And we knew he would do so much better if he could be with another young barn owl."
To avoid Casper facing "a winter on his own", an appeal was made on BBC's Autumnwatch programme on Friday, and two companions were located.
"They're about the same age, one is a few days younger, but it should be fine and we'll rear them as a group and release them together," said Ms Kidner.