Giant poppy installed on Wiltshire hill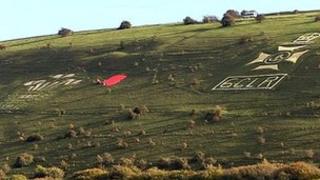 A 33ft (10m) poppy placed on a hill in Wiltshire to launch the Royal British Legion's Poppy Appeal will appear on the BBC's Countryfile programme.
The giant hardboard poppy was filmed last week being installed by eight soldiers from the 11 Royal Signals Regiment amongst the Fovant Badges.
The Regimental emblems at Fovant were cut into the chalk hill during World War I by soldiers camped nearby.
County fund-raiser Fiona Dobson said it was the legion's "biggest poppy".
"I don't know of any other poppy that is bigger in size," she said.
"It came in 38 sections and had to be carried down from the top of the hill, which is very steep, and nailed together and pinned into the hill.
"But it was very impressive when it was put together."
Remembrance programme
The giant carved cap badges at Fovant make up the most complete group of chalk hill figures in England.
And despite its dimensions, the giant poppy was dwarfed by the badges - the largest of which is the size of three cricket pitches.
"The eight young soldiers were filmed slotting the poppy together and interviewed for a special remembrance edition of Countryfile," Ms Dobson said.
"Unfortunately we couldn't keep the poppy up because we only had the soldiers for that day and we needed them to dismantle it.
"But it was extraordinary while it was up."
The Poppy Appeal in Wiltshire is hoping to raise £575,000 this year whilst nationwide a target of £40m in support of the Armed Forces family has been set.
The Countryfile programme, featuring Fovant, will be shown on BBC1 on 6 November.