Pensioners to patrol streets in Salisbury over Halloween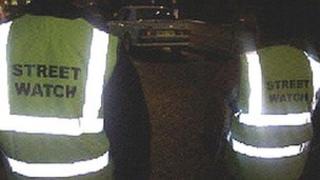 A group of pensioners and a dog are to patrol streets in Salisbury to keep any Halloween-related anti-social behaviour to a minimum.
The Street Watch team has been trained by Wiltshire Police and will patrol the Bemerton Heath area of the city from 1830 GMT "until fairly late".
The volunteers, aged up to 70 years old, launched the community policing scheme in the county last April.
Co-ordinator Margaret Sams said they did not want to "spoil anybody's fun".
She said: "The very nature of Halloween is scary.
"And we're really just going to be making sure that the vulnerable and the elderly and those who live on their own are not getting intimidated."
'Elderly Alsatian'
Street Watch began in Hampshire and following its success has been embraced by other counties including Wiltshire.
The volunteers have no authority to react to crime but report any incidents to the police.
"We go out with a notepad and pencil, a torch and a mobile phone," said Mrs Sams.
"And one of our retired members has an elderly Alsatian - he's a friendly dog - and he comes out with us just for the exercise really.
"And we always patrol in pairs so we're never on our own, so there's nothing scary about it and we've never yet had a problem."