'Forgotten' Laverstock war dead remembered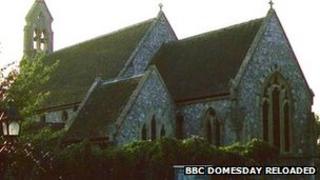 The names of 11 "forgotten" war dead from Wiltshire have been added to a village memorial.
It was noticed there were no names from World War II on the war memorial in Laverstock, which is inside St Andrew's Church.
Recent research has revealed nine World War II soldiers from the village and two from World War I who were not on the memorial.
A re-dedication ceremony was held on Sunday.
Hugh Montgomery, a lay preacher at St Andrew's, said it would be satisfying for families and friends of the dead to know their contributions to the war were now being recognised.
"On Remembrance Sunday now when we have the tradition of reading out the names of those who have died, we will be adding those names to that list.
"Having been an ex-soldier myself, it's the right thing to do.
"It's also good for the church that we've achieved an aim of being able to remember these people."