Tidworth war memorial statue to be replaced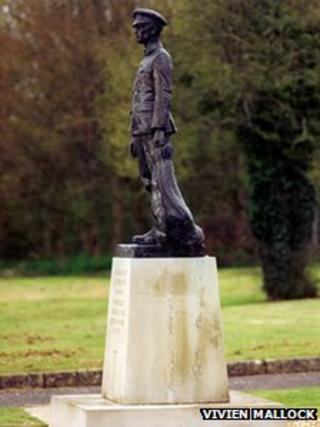 A bronze war memorial featuring a World War I soldier which was stolen from the garrison town of Tidworth is to be recast.
There had been fears the 4ft high (1.2m) statue would not be replaced after the soaring cost of metal meant it would not be covered by insurance.
But sculptor Vivien Mallock contacted the Tidworth Royal British Legion and offered to replace it at cost price.
Police said two men took the statue on 17 October.
Mrs Mallock said she cast the original 12 years ago as a "one-off".
"Normally we would smash the mould after casting but I liked that one so much I kept it which is very unusual.
"I'm talking to the foundry to make sure the new statue can't be stolen again," she added.
Ann Green, the secretary of the Royal British Legion in Tidworth, said the loss of the memorial would not stop the Legion's plans for Remembrance Day.
"It's too late to do anything else but this won't stop the service and parade from taking place.
"We'll use poppies on and around the memorial instead," she said.
'Reward offered'
Ms Green said she hoped the police would catch those who stole the statue and bring them to justice.
"It's possible someone may have dumped it somewhere because of the publicity so we'd ask people to keep a look out for it," she said.
She added that many who contacted the legion had been disgusted with what had happened.
"I had one man call me last night who said the theft was an 'awful thing to have happened'," she said.
"He told me his father had fought in World War I and wanted to offer a £2,000 reward to help bring the offenders to justice.
"We've had members of the public wanting to donate contact us and also military units in the area have offered to help."