Radio-controlled Spitfire attempts cross-Channel flight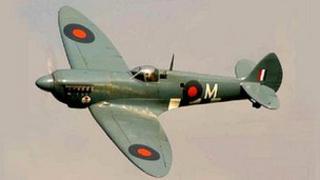 A man will try to cross the English Channel piloting a radio-controlled plane to mark the 75th anniversary of the first Spitfire flight.
Mike Booth, from Marlborough, Wiltshire, will control his 1/4 scale model of a Spitfire from a microlight being flown alongside.
The replica plane, built by Mr Booth, will take-off from France later to attempt the 37-mile English Channel flight to Kent's Spitfire Museum.
Mr Booth said he felt "very confident".
The 19kg radio-controlled replica - designed and built by Mr Booth - has a 9ft (2.7m) wing span and is powered by an 80cc engine.
The £4,000 model was initially flight-tested at Clench Common airstrip, near Marlborough, before being driven to Calais ahead of the cross-Channel attempt.
"It is very large - but it's no more difficult controlling it from a plane than it is from the ground," said Mr Booth.
"And for the Channel crossing it's just a question of flying it in a straight line."
However, he said that undertaking the task had involved "an epic paperwork and department trail" to obtain permission from aviation authorities in both the UK and France.
"We have been working on this for some months - and now that we're in Calais we're just hoping for a weather window so that we can get airborne," he said.
Mr Booth added he expected the crossing to take less than 40 minutes.