National Trust rent rise in Lacock 'too much'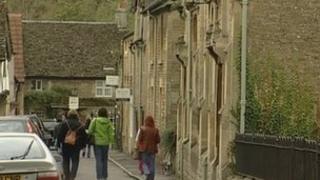 Villagers in Lacock in Wiltshire have said they are being driven out of their homes because of rent increases brought in by the National Trust.
The National Trust tenants association said young people cannot afford market rents and OAPs risk becoming homeless.
But the trust said it was dutybound to make best use of its assets and its rents were "appropriate".
A spokesman said the rents were reviewed every two years and they were going up by about 10%.
'Ancient community'
Leo Stevens, from the Tenants Association of the National Trust, said if rents continued to rise at that rate then younger local families would not be able to afford to live there and the elderly would become homeless or have to find other accommodation.
"This ancient community would gradually break up and be no more," Mr Stevens said.
Graham Heard, from the National Trust, said the rents were set to attract people who want to live there rather than to maximise its income.
"Our brief is to look after everything for everybody," he said.
"We have to make the best use of out assets so the rents we charge are appropriate for the houses."
The National Trust owns 90 properties in the village.