Prostitutes aged 13 are working in Swindon, it is claimed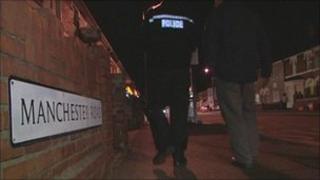 Prostitutes as young as 13 are working the streets in Swindon's town centre, the BBC has been told.
Sex worker Glenice Cottrell, 46, talking in the Broadgreen area, said teenagers thought it was "easy money."
The claim comes as Wiltshire Police scraps a scheme which helped get women off the street by offering support for drug and alcohol problems.
The neighbourhood policing team in the town centre has now taken over dealing with the issue.
Ms Cottrell told the BBC: "Come here at the weekend and you'll get 13-year-old girls to 19-year-old girls out here."
Enforcement and support
Police say the new initiative will take an "enforcement and support" approach.
The previous "befriending" scheme was named Operation Dobbin.
Sgt Louis McCoy said: "We will be continuing the same format as on Operation Dobbin - there are going to be no radical overhauls or changes.
"There will be enforcement and support work. The two cannot work separately, they have to work hand in hand."
Through partnerships, the neighbourhood policing team will offer drug rehabilitation and access to sexual health nurses and homeless agencies with a focus on preventing women returning to the streets.
However, Sgt McCoy said that those women who refused to seek support and counselling with their problems would face arrest.
"Where somebody doesn't want to engage, we will have a look at the cause of why they don't want to engage and see if there is another avenue and then we will also have to look at enforcement," he added.
Work in partnership
"It's a two-pronged approach of support and enforcement as it always has been, just that we've brought that on to our local policing team."
The team will work with community leaders in Broadgreen. Prostitution has been a problem in the area for many years.
Chris Stickler, of Swindon's Community Safety Partnership, said: "Most street sex workers are working the streets to support their own or a partner's drug use.
"It is therefore vitally important that when strategies are developed to reduce or disrupt street level prostitution that law enforcement and drug treatment agencies work in partnership."