Chiseldon commissions replica of Iron Age cauldron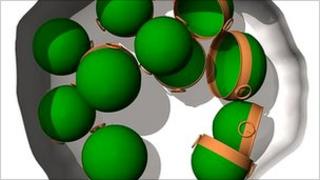 A full-size replica of an Iron Age cauldron which was found in a Wiltshire field is being commissioned by residents.
The large cauldron is one of 12 found by a metal detector enthusiast near the village of Chiseldon in 2004.
The British Museum, which is conserving the Chiseldon cauldrons, described them as "the biggest Iron Age find to date".
A local history group is now raising funds to have an exact copy made.
Excavated by the British Museum and Wessex Archaeology, the dozen bronze and iron vessels were discovered "carefully placed" in a pit along with ox skulls.
Currently at The British Museum, being cleaned and conserved under laboratory conditions, the cauldrons are "too fragile and important ever to return to Chiseldon", the museum has said.
As a result, The Chiseldon Local History Group has launched an appeal to raise £2,000 to have a replica made of one of the cauldrons.
Sheila Passmore, from the group, said a local blacksmith had already been commissioned.
"It's going to take about a year, so hopefully we will have all the money by then to pay for it," she said.
"And it will go in our museum. We'll have a tripod made to hang it on with chains - exactly as they did 2,000 years ago."
The first of the Chiseldon cauldrons, which took nearly 200 hours to restore, is currently on display in the Iron Age Gallery of the British Museum.