Eddy Shah arrested in historical sex offences inquiry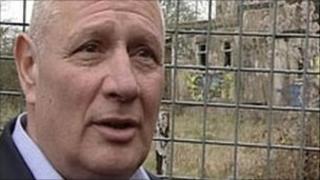 Former newspaper owner Eddy Shah has been arrested in connection with sexual offence allegations.
It is understood the allegations date to a period prior to 2003.
The 67-year-old confirmed he had been arrested but said he had been released on bail and has not been charged.
The Metropolitan Police said two men, aged 63 and 51, and a woman, 51, all from Kent and a man, 62, from East Sussex, were also arrested. They have been bailed pending further inquiries.
Eddy Shah became famous in the 1980s for his fight with UK print unions and his launch of the Today newspaper in Warrington.
Legislation introduced by the Thatcher government allowed him to use an alternative workforce after unions tried to impose a closed shop policy.
He sold his newspaper business in 1988 and currently owns and runs a golfing and leisure complex in Wiltshire.