Wootton Bassett's pride over repatriations role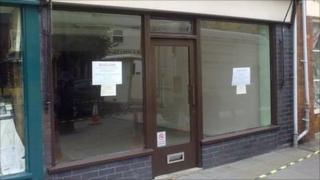 Grey, leaden skies hang over Wootton Bassett - the unlikely focal point for a nation's grief for fallen soldiers.
The gloomy weather does little to lift the spirits in the town that has seen the coffins of 345 service personnel pass slowly down the High Street.
But the residents of the Wiltshire town also feel pride in how they have shown support for the armed forces.
The last and 167th repatriation came through here on 18 August and the town is being renamed Royal Wootton Bassett to recognise its role in honouring the fallen.
The mass support for the processions began after posters showing dates for repatriations were displayed in the window of a picture framing shop in 2007.
The notices helped to draw hundreds of people to the roadside to pay their respects for each repatriation.
That shop now stands empty and the business has moved on to an industrial estate near to the town.
That feeling of moving on is shared by others in the town with some saying Wootton Bassett has now "done its stint".
From September, the repatriations will switch to RAF Brize Norton and will travel through Carterton in Oxfordshire.
Mark Collins, who runs a tailor shop just off the High Street, in Wootton Bassett, said he was "really proud of how the town has handled things".
"It's nice to see people paying their respects," he said. "It's seen a lot of sadness over the past few years."
The sorrow etched on the faces of family and friends will be one of the enduring memories of Wootton Bassett's unlikely role in the conflicts in Afghanistan and Iraq.
Mr Collins, who lost relatives in the first Gulf War, said now was the time for the town to step away from the limelight.
"The fact it's moving somewhere else now - it's about time," he said.
"I don't mean that in a disrespectful way but there's been a lot of sadness on the High Street. It'll give a chance for a little more happiness in the town now."
Hazel Newson, who runs a gift shop in the town, echoed the feeling of pride for what Wootton Bassett has done.
"It'll be really sad to see it end. It's a very sad occasion," she said.
"It would be much nicer if no more came home and then nobody had to watch more young lads come home but I think we've done our bit and we should be proud of what we've done."
On the High Street, shoppers agreed.
"Everybody has got such strong feelings. Without a doubt we're proud of the role the town has played," said Roger Maidment.
Diana Jeremiah added people just wanted to honour the sacrifice of others.
"I think the town has shown its support not for glory but out of respect for people who are giving their lives for other people."