Volunteers in Wiltshire train to run local libraries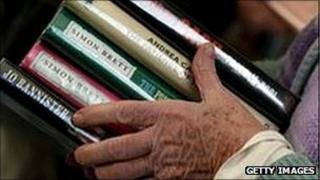 More than 300 volunteers from across Wiltshire are in their final week of training before taking over and running their local libraries.
The county council asked for helpers in January as it looked for "innovative ways" to keep them open after a cut in funding from central government.
It made 17 library staff redundant and threatened 10 of its 31 libraries and five mobile routes with closure.
Volunteers will start staffing local libraries over the next four weeks.
"I've lived in the village for 34 years," said Joyce Wheylan, one of around 40 people from Purton who have offered to volunteer at the local library. "My children use the library a lot and so I'd hate for the little children of the village now not to have that opportunity."
'Way forward'
Caroline McClean, who also volunteers at Purton library, said: Clearly nobody wanted the library to close, everybody's passionate about their own local library and their own bit of their community.
"So if the library's going to close and volunteers can save it, that's the way forward. Quite simple really."
As part of the changes, new opening hours will also be introduced in libraries from 5 September.
Other proposals include assistance from local communities and new self-service machines to check books in and out.
'Fantastic reception'
Deputy leader of the Conservative-controlled Wiltshire Council, John Thomson, said: "We've gone into partnership to try and keep all our libraries and our mobile libraries on the road.
"Because of the fantastic reception we've had from volunteers in Wiltshire, we're maintaining our libraries across Wiltshire where many authorities are closing them."
Mr Thompson said more than 300 volunteers already worked in their local libraries "doing fantastic work" and giving over 7,500 hours of their time.