Salisbury Cathedral hosts new Magna Carta exhibit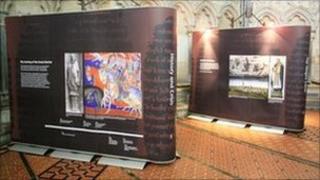 A new exhibition telling the story of one of the world's most historical documents is going on show at Salisbury Cathedral.
The display puts the 1215 Magna Carta document - one of only four remaining - in historical context.
Salisbury Cathedral's copy is the best preserved of the original copies, described by exhibition curators as a "very, very emotive document".
The other three are held at The British Library, London, and Lincoln Castle.
Marketing director David Coulthard said the UNESCO-listed treasure was "part of human history."
"Every year we research our visitors and it's interesting that the Magna Carta actually seems to be more important to our foreign visitors than it does to the Brits," he explained.
"I think perhaps we do take it for granted."
'Extremely proud'
The Magna Carta, which is Latin for great charter, is one of the most famous documents in English history.
An agreement between King John and the Barons of England, it was seen at the time as the solution to a political crisis in Medieval England.
Since then it has become recognised as a cornerstone of liberty influencing much of the civilized world.
Mark Bonney, Canon Treasurer said "Salisbury Cathedral is... extremely proud to own the finest preserved of the four surviving original 1215 documents, whose clauses on social justice are as pertinent today as they were 800 years ago.
"This new exhibition is the first step in the cathedral's longer term plan to develop the interpretation of Magna Carta ready for its 800th anniversary in 2015."
The cathedral's Magna Carta is held in the Chapter House and can be seen during normal visitor opening hours.