King James Bible to be protected at Wiltshire church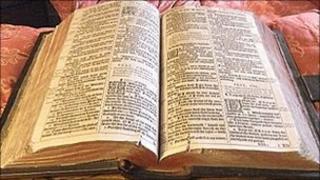 A special lectern is being built in a Wiltshire church to protect its original copy of the King James Bible.
The Bible dates back to 1611, and was found in St Lawrence Church near Calne earlier in the year by residents researching the building's history.
The Alan Tilbury-designed glass case will keep the Bible safe whilst allowing visitors to look at it.
There are fewer than 200 original printings of the King James version known to exist.
"The Bible is so beautiful," said Mr Tilbury, who created special chairs for the former archbishop of Canterbury, Dr George Carey.
"The pages are so beautifully produced and amazingly clear in their print and legibility.
"It's a great privileged in many respects, from my point of view, to make something that is going to be simple and important to St Lawrence Church."
Human interference
Described as a fragment, despite most of the Bible being intact, it was first "rediscovered" in the 1800s.
Since then it has suffered from both the ravages of time and some human interference.
The Reverend Francis Fisher found it in 1857 and carved a cover from oak but trimmed the pages, so that the tops are missing.
"Having now got the prototype complete, and the various viewing angles, I think general approval of the design is given," Mr Tilbury added.
"It's go ahead now really with the real piece, which will be made in English oak, and hopefully will be made this year."