Swindon Peter Pan statue beheaded in Town Gardens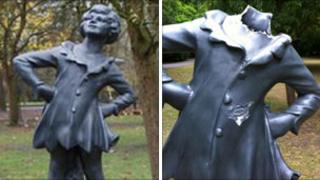 A statue of Peter Pan in a park in Swindon town centre has been beheaded.
The original statue, which had been there since World War I, was stolen in 2004.
It was recovered, restored and put into storage and a fibre glass replica was put in the Town Gardens in November. The 2ft statue sits on a stone cairn.
Swindon Borough Council is offering a £500 reward for any information leading to the conviction of the person responsible.
It is thought the statue was attacked in the past couple of days. Wiltshire Police says it has not received any reports about the vandalism.
The replica statue was put in the gardens last November when a Peter Pan pantomime came to the the town's Wyvern Theatre.
Rod Bluh, Conservative leader of the council, said: "Even if the reward never gets paid and we never get the information, if it raises the profile and makes it clear to people that we're just not going to tolerate this, then hopefully it will have an effect.
"But I just can't sit back any more and let this stuff happen and just feel powerless to do anything about it."