German bomber plane parts found in Somerset garden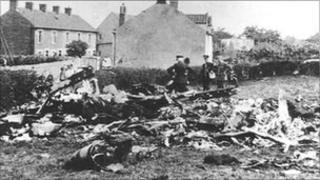 Parts of a German bomber plane shot down in the Battle of Britain have been found in a garden in Somerset.
Engine parts of the Heinkel were left 5ft (1.5m) underground in Puriton for over 70 years archaeologists have said.
Homeowner Alan Jennings said: "It's not everyday you get someone knock on the door and say there's a German bomber in your back garden."
The site is being excavated after original photographs were used to discover the plane's exact whereabouts.
Exploding bullets
Archaeologist Gareth Jones said it was known for some time that a Heinkel plane had crashed "in or around the area".
At the time, the main body of the bomber was recovered by the RAF but the impact of the crash meant some of the parts broke off as it was pulled out of the ground.
It is these parts which are now being excavated by the enthusiasts who hope they will eventually be displayed in a museum to give a fresh insight into the Battle of Britain.
"For many years all the locals have said that it had been buried under the bungalow when it was built in 1955," he said.
"But we got some aerial photographs of the actual site and we figured out that the house couldn't have been on the spot of the Heinkel."
The Heinkel was part of a Luftwaffe raid on Cardiff docks and was shot down by a squadron of Spitfires deployed from Pembrey Airfield, Carmarthenshire.
"They intercepted the raid and they picked off two of the Heinkels and this one crashed in Puriton and the other one force landed up on the Mendip Hills," said Mr Jones.
"There was a crew of five on this one and when they were intercepted the crew jettisoned all their bombs across the Somerset levels and all the crews jumped out."
It was Len Carp's 16th birthday on 14 August 1940, the same day the German plane was shot down.
"I was out in the back garden because I heard this machine gunfire and looking up I could see it was a German and could see the Spitfire after it," he said.
"It headed straight this way towards this area of the village and I actually saw it come down.
"We went to have a look but of course there were police there and they wouldn't let us go nearer - they kept everybody back because you could hear the bullets going off - exploding with the heat."
Vera Frost was playing with a friend when the German plane came down so low "it knocked somebody's chimney off".
"It came down very low and you could see there was no pilot in there and it blew up in a big explosion," she said
"It was frightening."