Wootton Bassett remembrance poppies get crystal tears added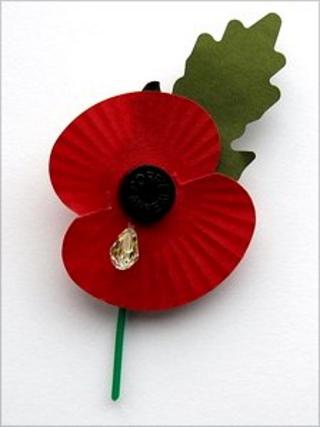 The residents of Wootton Bassett who have turned out for countless soldier repatriation parades are to be thanked with special remembrance poppies.
Created by Wiltshire charity worker Lynda Beaven, poppies can now be adorned with crystal tears as a "physical way of saying thank you".
Mrs Beaven, of Steeple Ashton, and volunteers have assembled 4,000 tears to raise Royal British Legion funds.
Repatriations through the town are due to come to an end in September.
Mrs Beaven said the tears were a way of thanking those "who have represented us so humbly and with so much dignity".
The Wootton Bassett Teardrops project was launched at the Armed Forces and Veterans weekend in Trowbridge, at the end of June.
In just three weeks, the not-for-profit project has sold over 500 crystal teardrops, which cost £3.
'Silent and dignified'
"My vision is for tens of thousands of people to wear a teardrop with their remembrance poppy this November," said Mrs Beaven.
"As their way of saying 'Thank You' in a silent, dignified way."
A teardrop, according to Mrs Beaven, is a way for people to pay tribute to residents who have stood in silence as fallen troops have journeyed through the town since 2007.
"This year is the right time to enable the public to show their appreciation and deep debt of gratitude to everyone connected with these repatriations," said Mrs Beaven.
"From the Royal British Legion members, to the bell ringer who has rung the tenor bell for every repatriation for four years, to the school children who have stood on the roadside, to the members of the public who just felt the need to be there."