RAF Lyneham to be defence training centre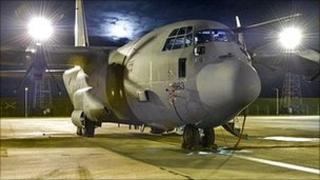 RAF Lyneham will become a defence training centre from 2013, the government has announced.
Defence Secretary Liam Fox told the House of Commons that the Defence Technical Training Change Programme centre would move there.
The Ministry of Defence (MoD) made the decision to close RAF Lyneham in 2002 as part of a strategic review of military bases.
It had been thought the MoD would sell off the base which will close in 2012.
North Wiltshire's Conservative MP James Gray said he was "delighted" at the news.
"We fought long and hard to keep the RAF at Lyneham but sadly failed," he said.
"I was delighted by the secretary of state's announcement that the base will instead be used by the Defence Technical Training establishment."
Military lecturer Peter Caddick-Adams, at the Defence Academy in Shrivenham, described the announcement as "excellent news".
He said: "There was a great fear that the Lyneham estate would be sold off, which made no sense.
"It's a very intelligent use of the estate, which has had a lot of money put into it over the years and it would be a shame to see it sold off quite cheaply."
Initially 1,500 posts will be based at Lyneham when it reopens in 2013.