Box containing 47 baby bats found dumped in Wiltshire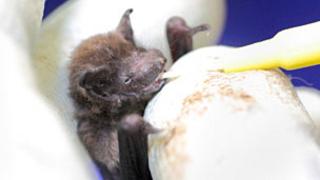 Forty seven baby and two adult pipistrelle bats have been found dumped in a box in Wiltshire, the RSPCA said.
The protected bats were discovered in a box at the side of a polo pitch at Perham Down near Tidworth on Wednesday.
Two females bats, one with a fractured wing, and 47 babies were taken to the Wiltshire Wildlife Hospital.
An RSPCA spokesman said he had never heard of bats being "removed and dumped in this way".
Marilyn Korkis from the Wiltshire Wildlife Hospital said it was one of the "most distressing sights" she had ever seen.
"They were all crawling over each other in the box, with baby bats clinging to other babies," she said.
"It's just wicked. Usually a mother will have just one baby, so 47 mothers will have flown out of the roost and come back to find all their babies gone."
'Declining species'
The baby bats, some "no bigger than a thumbnail", were all infested with mites and suffering from dehydration.
The orphan pipistrelles are currently being hand-reared, round the clock, by a team of six "bat workers".
Mrs Korkis said she was hopeful that they now have "a chance to go on and be released back out".
Pipistrelles often roost inside buildings but it is a criminal offence to intentionally kill, injure or handle a bat or damage, obstruct or destroy any place used by bats for shelter.
Anyone found guilty can be fined up to £5,000 per bat.
RSPCA Inspector Will Hendry said: "If there were 49 in the box goodness knows how many bats would be in the roost.
"Bats are a declining species and it is totally illegal to disturb them and we would urge anyone who may have seen anything suspicious to call the RSPCA."