Hercules fleet's farewell to Wiltshire and RAF Lyneham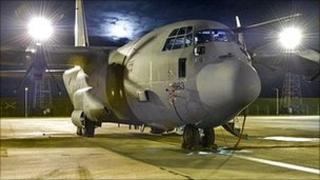 A fleet of Hercules aircraft will make a low-level flight over Wiltshire on Friday - to say farewell to the county.
Four of the planes - nicknamed Fat Alberts - are leaving RAF Lyneham for the last time before heading to RAF Brize Norton.
Lyneham has been the home of the Hercules for 45 years and became synonymous with the giant air transporter.
By the end of September, RAF Lyneham will cease to be a flying station.
Taking off at 1030 BST, the planes will make the 110-mile flight from Lyneham and head west of Hullavington and Malmesbury over Colerne, Warminster, Trowbridge, Melksham, Devizes, Calne, Chippenham, Lyneham Village, Wootton Bassett, Blunsdon area of Swindon, Shrivenham before heading to RAF Brize Norton in Oxfordshire.
RAF Lyneham station commander Gp Capt John Gladstone said: "It will be a very sad day for everyone at Lyneham but it's just a new chapter in the history of the Hercules.
"The Hercules has a very important job to do in operations and our move to Brize Norton will have no impact on that whatsoever."
The first Lockheed Hercules arrived at RAF Lyneham in August 1967.
The arrival of 70 Squadron in the 1970s resulted in RAF Lyneham becoming the RAF's largest operational base.
In 2003, following government cost-cutting, it was announced RAF Lyneham would close by 31 December 2012.
The Princess Royal, Lyneham's Honorary Air Commodore, has been associated with the airbase for more than 30 years.
She said: "I will miss that rather distinctive sound of a Hercules tracking into Lyneham from the north over Gatcombe."
Relocating 1,400 military personnel and 33 Hercules is the RAF's "most complex and biggest non-equipment programme".
Barbara Taylor, from St Michael's church in Lyneham, said: "It's sad to see everything go.
"I live on a flight path and I love to watch the Hercules come over everyday and fly out everyday and it will be very, very quiet."
From September, the repatriations of fallen troops, which have taken place through Lyneham since 2007, will go through Brize Norton.
And by 31 December 2012, RAF Lyneham will be closed.
The future of RAF Lyneham remains uncertain, although the government has said the site is in "a strong position" to become an Army base for soldiers returning from Germany.
Proposals have also been made to convert the vast 1,300 acre site into a holiday theme park.