Swindon crackdown on fake tobacco and alcohol sales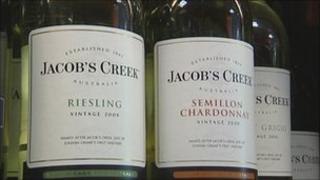 Swindon's shop owners are being shown how to spot fake and smuggled cigarettes and alcohol in an effort to crackdown on counterfeit sales.
Trading standards officers will visit nearly 100 independent retailers in the town offering advice on spotting bootleg goods.
The campaign comes after dozens of bottles of fake Jacob's Creek wine were found in five Swindon shops in April.
Convicted dealers in counterfeit goods can face up to 10 years' imprisonment.
Wonky printing
Councillor Colin Lovell said that smaller businesses "feeling the pinch" were being targeted by "unscrupulous criminal gangs" offering bargain deals.
He said: "Unfortunately for the retailer, they will be the ones carrying the can when our trading standards officers come calling.
"So we hope to give them all the help and support they need to run their businesses and be able to give us the information we need to bring the criminals to justice."
Businesses approached by suppliers offering cheap alcohol or tobacco are being advised to look out for tell-tale signs such as "poor spelling or wonky printing" on labels.
Retailers are also being asked to check that cigarettes and tobacco are marked with "UK Duty Paid".