Parents at Marlborough school organise own prom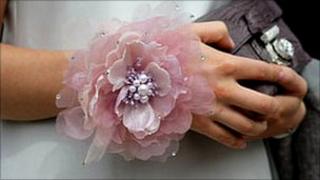 Parents of pupils at a Wiltshire school are staging their own parents' prom, the day after their children's event.
Friends and family of St John's School in Marlborough are staging the event the day after the school's year 11s have their post GCSE celebrations.
Organisers from the PTA asked why students should "have all the fun" and opened their event to anyone old enough "to prefer Kajagoogoo to Kanye West".
They said it would raise money for the school and serve "more than alcopops".
Julia Mocock, from the school's Parent-Teacher Association, said: "Why should the students have all the fun? So we decided this year that the parents would have their own prom.
"We're going to use the same set-up as the kids and we're going to be there on day two, so obviously we're going to have to clean up after them first."
Queen raffle
Since the school's PTA formed in 2007, it has raised more than £38,000 by running events.
This black-tie event will be the first time that the school has hosted a parents' prom.
"We're probably a little bit too old to have a prom king and queen," said Mrs Mocock.
"But we might say that the prom king and queen is whoever wins the raffle."
For Lyn Weseemael, another member of the school's PTA, the parents' prom will be her first school prom.
"I've never been to one so this is my first - my first prom at 46," she said.
"I might sew two dresses together to make my dress but it's a great excuse to have a party."