Wiltshire backs £20m refuse plant plan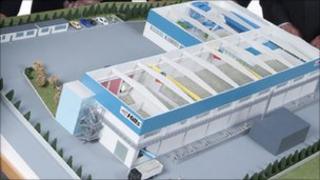 A new refuse plant facility has been given the go ahead in Wiltshire.
The county's first mechanical biological treatment (MBT) plant is designed to sort through refuse and find what can be recycled or recovered.
Sixty thousand tonnes of household waste will be treated at the plant as part of the county's strategy to reduce the amount of waste sent to landfill.
Hills Waste Solutions will build the £20m facility, to house the MBT plant, on Westbury's Northacre Trading Estate.
The facility is expected to reduce the proportion of Wiltshire's waste sent to landfill from 37% to less than 20%.
Hill's Group chairman, Alan Pardoe, said the contract was "a key step in Hills Waste Solutions' transition from a landfill disposal operator to a waste recycling and treatment business."
A spokeswoman for Hills Waste Solutions said the plant would "help the county's taxpayers avoid landfill tax, which will cost £80 per tonne by 2014".
The plant is expected to be operational towards the end of summer 2013.