The last of the 'Tamworth Two' pigs dies at age 14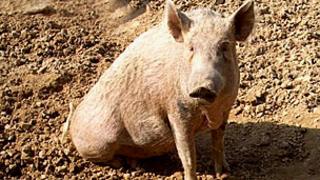 The last of the Tamworth pigs that made international news after escaping from an abattoir has died at the age of 14.
Sundance, a Tamworth boar, escaped with his sister Butch from a slaughterhouse in Malmesbury in Wiltshire in 1998.
Nicknamed the Tamworth Two, the pigs spent a week on the run before finally being recaptured and rehomed at a rare breeds farm in Kent.
Sundance, who outlived his sister Butch by seven months, was put down last week suffering from arthritis.
Named after film outlaws Butch Cassidy and the Sundance Kid, the two were six months old when they escaped from the lorry delivering them to the abattoir and made news headlines before eventually being recaptured.
Since then they have been housed together in a "luxury pen" at the Rare Breeds Centre in Woodchurch near Ashford, Kent.
In 2004 their story was made into a BBC One drama called the Legend of the Tamworth Two.
"They've been a great attraction here for the last 13 years, a real draw," said Nikki Sara from the Rare Breeds Centre.
"We still get people coming in asking where they are."
Memorial plaque
Last October following a couple of months of illness Butch was put down.
Seven months later, Sundance suffering from arthritis, and "much quieter" after his sister's death, has also been put down.
"He was getting old and was having trouble getting in and out of his bed," said Ms Sara.
"He was on the maximum dosage of pain killers and the farm manager decided that it wasn't fair on him.
"But 14 is a very good age for a pig."
Staff are considering putting up a plaque in memory of Butch and Sundance.