Lion cubs make first public appearance at Longleat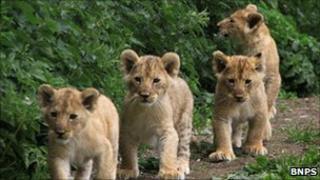 Longleat Safari Park's newest arrivals, four lion cubs, have taken their first tentative steps outside.
The nine-week old cubs, each weighing about one kilo and the size of a young Labrador puppy made their first public appearance into their outdoor paddock.
The three females and a male were born in March to mother Yendi and father Nibalo.
Head of section Brian Kent said: "We're delighted with the progress the cubs have made so far.
"We'll continue to keep an eye on them over the next couple of months as they begin to grow into life at Longleat."
The cubs will continue to be let out into their paddock over the next week or so before having the complete freedom of the main lion reserve with the rest of the pride later in the month.