Wiltshire College: 86 jobs to be axed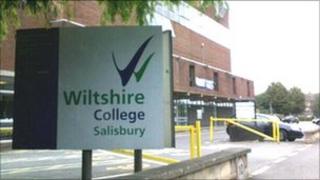 Eighty-six jobs - including some teaching posts - are to be lost at Wiltshire College.
The college needs to save £3m from its budget after the money it received from the government was reduced.
College bosses said the cuts affected teachers, managers and administrative staff and the jobs would go before term started in September.
Vice Principal Bev Flanagan said the future of some courses was being investigated.
"The job losses will be right across the board - everything from managers, front of house people and people delivering the provision," she said.
"What we are trying to do is reorganise the curriculum, reorganise our services and make efficiencies so that we can continue to offer the service we have to do for the community.
"We have a very rigorous curriculum planning exercise... obviously we look at the viability of courses, numbers on courses but that does not necessarily mean we have to cut anything.
'Knee-jerk cuts'
"We can merge courses together... there are lots of ways you can streamline the curriculum and we are looking at a lot more innovative ways of delivering it."
Moray McAulay from the University and College Union, which represents college lecturers, said cuts of this type would have consequences for students.
"Some students will have to travel further to do their courses as they may not be available locally.
"The suggestion that you can somehow do more with less and cuts of this magnitude will have no impact on the students or community I think suggests the college management aren't living in the real world.
"We recognise colleges are facing very big cuts... but we are concerned they are panicking into making knee-jerk cuts and then pretending to the community they serve they won't have an impact."
Wiltshire College, which has 3,300 full time students and 6,000 part timers, was formed in 2000.