Wiltshire team scales wrong mountain in peaks challenge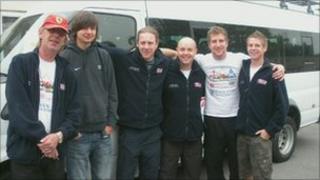 A group from Wiltshire who tried to climb Britain's three highest mountains for charity got lost on one peak and then scaled the wrong mountain.
The Three Peaks Challenge was in memory of their friend, Wayne Wilson, 26, from Cricklade, who died of leukaemia in January.
Six friends formed Team Wayne and despite the mishaps have managed to raise almost £10,000.
They climbed Stob Ban instead of Ben Nevis and got lost on Scafell Pike.
The friends, who all come from Mr Wilson's home town, took part in the challenge on 27 April.
It involves scaling Snowdonia in Wales; Scafell Pike in the Lake District, England, and Ben Nevis in Scotland, all within 24 hours.
The group, which included Mr Wilson's brother, Carl Wright, took the wrong turn at the start of the trek in Scotland and climbed Stob Ban, a much steeper peak than the higher Ben Nevis.
Also in the team were Damien Davis, Kevin Giles, Kevin Midgley, James Bowyer and Mike Murray.
Mountain rescue
Mr Davis said: "When we reached the top, Mike phoned me and said 'I hate to break it to you sweetheart but this ain't it'.
"He told us we had climbed the wrong mountain."
The bad luck continued in the Lake District when Mr Davis sprained his ankle and had to pull out. Two others suffered back and ankle injuries.
Mr Murray and Mr Wright continued up Scafell Pike but did not return at the expected time and by midnight the concerned group called mountain rescue.
They were advised that the pair were probably lost but safe. The team were reunited the following day and decided to abandon the challenge.
All six have said they may have failed the challenge but plan to try again, although they have not yet set a date.
Mr Wilson, who died a few months after his diagnosis, married his childhood sweetheart, Sammy Cole, in December.
He leaves behind a two-year-old daughter Katelyn.