Swindon Borough Council remains under Tory control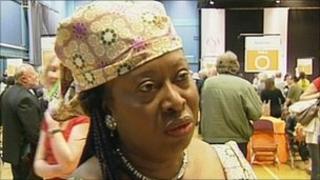 Swindon Borough Council remains under Conservative control despite Labour gaining two seats from the Tories.
One third of the seats on the borough council were up for grabs on Thursday.
Ellen Osa is one of the new Labour councillors, having taking Walcot from Conservative cabinet member Peter Mallinson.
Ms Osa said: "I know what it's like when someone doesn't have food on the table. I know what it means if someone is struggling."
She added: "You have to believe in the people... think how they think and get them on your side."
Ms Osa is Swindon's first female black councillor.
'No great surprise'
Rod Bluh, Conservative leader of Swindon Borough Council, said: "It obviously wasn't one of the better nights.
"The two seats we lost were our two most marginal seats and they were the ones we were most concerned about so there's no great surprise".
Justin Tomlinson, Conservative MP for North Swindon, said: "If [the Labour Party] are serious about winning these seats back at the general election they are going to have to be winning a lot harder seats than those wafer thin majorities".
The new borough council is comprised of 38 Conservative councillors, 17 Labour and four Liberal Democrats.
The national alternative vote referendum also took place at polling stations across the county. The results of that vote will take place later.
There were no local elections taking place in the Wiltshire Council area.