Bikers ride through Wootton Bassett to pay respect for the fallen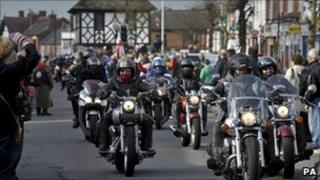 About 10,000 motorcyclists have driven through Wootton Bassett as a thanks to the town for supporting the families of soldiers killed in action.
It is the second and final Ride of Respect through the Wiltshire town as repatriation flights are moving from RAF Lyneham to Brize Norton this summer.
Each rider made a donation to the Afghan Heroes charity and it is hoped about £130,000 will be raised.
Last year the event raised £110,000.
Spokesman Laurence Phillips said the event had been organised by the biking fraternity from across the United Kingdom.
"It's their way of expressing their gratitude to the soldiers, who have given the ultimate, and also to the town.
"Wootton Bassett shows a spontaneous reaction when the people hear another soldier is coming through, they come out of the shops and line the streets, and the bikers want to recognise that," he added.
Last year, when the event was held for the first time, 16,000 bikers took part, with pillion riders taking the total to 23,000.
This year the ride has been deliberately kept smaller, with 10,000 bikers, plus 3,000 on pillion, but with other rides also taking place elsewhere in the country.
Ch Insp Charlie Dibble, from Wiltshire Police, said the event is about celebrating the brave service personnel in Afghanistan.
"It's wonderful to see so many bikers registered to take part in this event for such a worthy cause."