Hundreds march to remember Sian O'Callaghan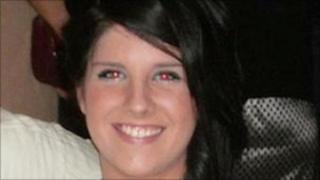 Hundreds of people have marched through Swindon in memory of Sian O'Callaghan.
Miss O'Callaghan, 22, disappeared after leaving the town's Suju nightclub on 19 March following a night out with friends.
Her body was found near Uffington, Oxfordshire, on Thursday last week. Christopher Halliwell, 47, of Swindon, has been charged with her murder.
Organisers said the event was organised to support her family and to show the area is still a safe place to live.
'Goodbye to an angel'
Spokesman Dean Mayo said the march was a final goodbye to Miss O'Callaghan.
"We've all stuck together as a whole. Swindon has come together to say our farewells and goodbye to an angel we remember."
Many of the estimated crowd of about 300 gathered outside Suju nightclub wearing white t-shirts emblazoned with a picture of Miss O'Callaghan.
The march, led by Father Mark Paris went through Swindon's Old Town and he led prayers in a nearby park at the Lawn.
After the prayers, a minute's silence took place.
On Friday, an inquest was told the 22-year-old is likely to have died of head injuries.
A Home Office forensic pathologist is still working to confirm a precise cause of death.
Her inquest was opened and adjourned at Oxford Coroner's Court.
Mr Halliwell, a taxi driver from Ashbury Avenue, Swindon, has been remanded in custody to appear via video link at Bristol Crown Court on 8 April.