Volunteers wanted to carry toads across Wiltshire roads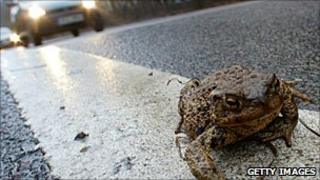 A group that helps migrating toads to cross a busy road in a Wiltshire village is appealing for volunteers.
Every year in Edington near Westbury amorous toads are killed by cars as they return to local breeding sites.
"They're woodland creatures and they'll travel up to a mile maybe more to get to their breeding sites," said toad patrol co-ordinator, Julie Swabey.
"So it's a shame when they've got to that point, that a car comes along and squashes them."
Over the spawning season, which runs from the end of March to mid-April, hundreds of toads make the journey back to two breeding ponds in Edington.
Many get run over as they instinctively cross a number of busy roads around the village.
"The gentleman who used to run the toad patrol in the village moved away several years ago," said Ms Swabey.
"But you could see for yourself that they were getting squashed on the roads so I decided to see what I could do to help."
Carried to safety
Ms Swabey is now looking for volunteers willing to collect the migrating toads in a bucket and carry them across the road to safety.
"Toads migrate usually on damp, dark evenings when it's mild and often when it's wet," she added.
"Which is why I think a lot of people would be reluctant to get off the sofa and out of the door.
"But it's good fun and it's making people aware that they are around and to be careful when driving through villages with migrating toad populations."