Yuri Gagarin comic dubbed 'propaganda'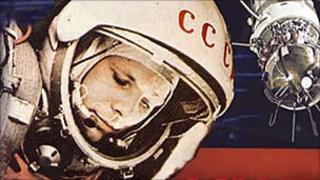 A comic book written by Wiltshire space enthusiasts about Soviet cosmonaut Yuri Gagarin has been condemned as propaganda in Russia.
The graphic novel, Yuri's day, The Road to the Stars, has been featured on Russian TV and newspapers.
Illustrator Andrew King said: "It was a bit alarming to hear of former cosmonauts accusing us of propaganda and distorting history."
But the publisher admitted the book shows "the dark side of Soviet life".
Based on the Gagarin biography Starman by Piers Bizony, the graphic novel tells the story of the early Soviet space programme leading up to Yuri Gagarin's historic flight on 12 April 1961.
Launched in the run-up to the 50th anniversary of the first manned space flight, the book has been featured in Pravda and The Moscow Times and the authors interviewed for both Russian and Ukrainian TV.
'Armed escort'
Publisher Peter Hodkinson said: "We were asked whether we felt that putting a story like this into a comic format was in any way an insult to the Russian people.
"The dark side of Soviet life plays a part in the story, but we also show Yuri as he was, a loyal and enthusiastic young Soviet pilot who became a great international ambassador for his country."
Mr King said: "We've all heard the American space story and we felt the Russian story not only needed telling but was in a way more dramatic.
"Yuri Gagarin was the first man to leave the planet and look back, the first man to see the blue planet floating in empty space, and what we were trying to do was to recapture that moment."
But he added: "Some website comments suggest we shouldn't travel in the former Soviet Union without an armed escort."