Wiltshire deputy chief constable David Ainsworth dead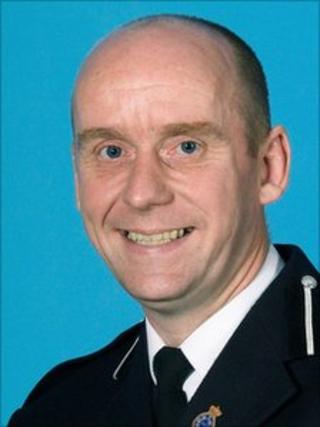 One of Wiltshire's top policemen, who had been removed from his normal duties while an internal staff issue was investigated, has been found dead.
David Ainsworth, 49, Wiltshire's deputy chief constable, had been working on other projects while an investigation took place.
Wiltshire Police said he was found dead at his home and his death was not being treated as suspicious.
The force said its thoughts were with Mr Ainsworth's family.
"Family and friends were being given full support following this sad news and his death is not being treated as suspicious at the moment," a spokesman said.
The Wiltshire coroner has been informed and there will be an inquest into the death.
'Valuable contribution'
At the time of his death he was the subject of an internal investigation being carried out by officers from south Wales.
Mr Ainsworth was moved from his duties as deputy chief constable in Wiltshire last September.
BBC West's home affairs correspondent Steve Brodie understands that this happened following allegations about his behaviour towards female staff.
Acpo president Sir Hugh Orde said the death of Mr Ainsworth had come "as a shock to the policing community".
"David made a valuable contribution to policing, not just at the force level, but also with his work nationally around vehicle crime and forensic procurement," he said.
"Our thoughts are with his friends, family and colleagues as we digest the news of this tragedy."
Mr Ainsworth joined Wiltshire constabulary in July 2008 from Kent Police, where he had risen to the rank of assistant chief constable.