The 'Stonehenge giant' statue is put up for sale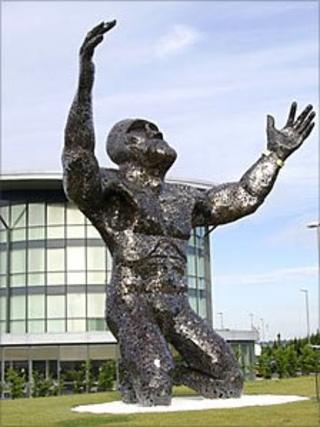 A 22ft (6.70m) steel man that appeared at the summer solstice celebrations at Stonehenge has been put up for sale.
The seven ton "Ancestor", currently at the Solstice Park, Amesbury, has appeared on an online auction website with a starting bid of £50,000.
Created by Andy Rawlings and Michelle Topps, the couple say they "can't afford to keep him anymore".
"We took a loan out to make him and we've been paying it back on a monthly basis," said Mr Rawlings.
"It's economics - we've got to sell him."
Sunrise at Stonehenge
The monumental statue with "head thrown back and arms open wide" cost £35,000 and took the couple nine months to build.
It made its debut with a "special guest appearance" at last year's summer solstice celebrations at Stonehenge.
Since then the Stonehenge giant has been in a prominent position next to the A303 in front of the Holiday Inn at the Solstice Park in Amesbury.
"He's been there for about nine months and people have got used to him being there," said Ms Topps. "I'll be devastated if he goes."
Created out of thousands of hand-cut pieces of steel welded to a steel frame, the Netheravon couple have been trying to find investors to "secure the future of the Ancestor" without success.
As a result the sculpture is being offered on eBay with an opening bid of £50,000 and a delivery charge of £1,000 within the UK.
"Since he's been on eBay it seems to have chivvied things up a bit," said Mr Rawlings.
"Now there's talk of him being bought and moved to the Countess roundabout just down the road, so we're hoping he won't go too far."