Boyfriend's appeal for missing Swindon nightclub woman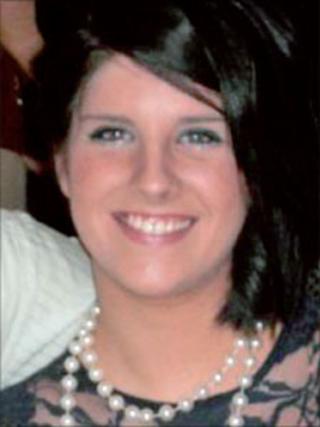 The boyfriend of a missing Swindon nightclubber has appealed for information to help find her.
Sian O'Callaghan, 22, from Swindon, was last seen leaving Suju alone at about 0250 GMT on Saturday and has not been heard from since.
Kevin Reape told a police news conference he wanted to tell the public how worried everyone was about her.
"This is a terrible time for all of us and we are praying for Sian's safe return," Mr Reape said.
"She has been missing now for over two days and it's not like her to not come home or contact any of us for such a long time," the 26-year-old quantity surveyor said.
"We all just want to know that she's OK as it's breaking our hearts not to know where she is."
Also present at Monday's news conference were Miss O'Callaghan's parents Mick, 51, and Elaine, 48, and younger sister Lora, 19.
Mr Reape said he had spent the day at the Cheltenham Races before returning home about 2230 GMT on Friday and going to bed.
He said he woke up just before 0330 GMT to discover his partner had not returned to their Westmorland Road flat, so he sent her a text message but received no reply.
After phoning family and friends on Saturday morning Mr Reape raised the alarm at 0945 GMT.
'Significant activity'
Wiltshire Police have been searching 4,500-acre Savernake Forest, near Marlborough, for signs of Miss O'Callaghan because mobile phone records put her telephone in that area soon after leaving the nightclub.
Det Supt Steve Fulcher said he wanted to hear from anyone who could explain how her phone came to be in that area 32 minutes after she had left the club, a journey he believed could have only been made by car.
"At 3.24am Sian's phone is in the area of the Savernake Forest, which is why we've had significant activity concentrated in that area.
"I'm keen to find witnesses who can give me any indication of people moving about, of vehicles about, in the Old Town area of Swindon from the time she left Suju nightclub at 2.52am.
"I would like anyone who saw her or any vehicles, especially in the area of Savernake forest where there are likely to have been only a small number of vehicles at that time of night, to make contact with police," he added.
Toilet assault
Miss O'Callaghan is 5ft 3in tall with brown asymmetrical hair and green eyes. She was last seen wearing a black bolero-style jacket over her grey dress and flat boots.
She was carrying a dark handbag which had a beige flower attached.
Police confirmed Miss O'Callaghan had been assaulted in the toilets of the Suju club in October 2008, when another woman punched her.
A spokeswoman said: "We are aware of a previous assault, but we are very much focusing on the here and now. It is not a focus of the investigation at the moment."