Salisbury based band City Stereo to support McFly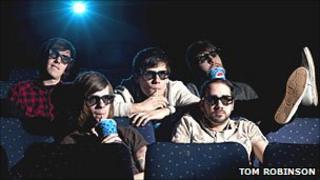 Salisbury-based band City Stereo have been selected to support McFly on their 14-date UK tour in March.
The five-piece Wiltshire pop/rock band will provide support at venues including Wembley Arena and Manchester Evening News Arena (MEN).
"It's all happened pretty quickly so it's not really sunk in to be honest," said City Stereo vocalist Russell James.
"I don't think it really will until the first night."
Across the tour, which begins on March 12 in Nottingham, the group will be playing to an estimated 160,000 people.
The largest crowd the band has performed in front of to date was the 2009 Christmas lights switch-on in Salisbury.
"We've done a few pretty big crowds like the Salisbury City Hall supporting You Me At Six and at the Queens Head Stage at Glastonbury," said Russell.
"The Salisbury lights switch-on was probably the biggest crowd we've played but it's nothing like Wembley Arena.
"Wembley Arena is really going to do it - I've seen many a band there and to be on that stage is just going to be pretty crazy."
The unsigned band, which includes Ryan Scott (guitar), Ben Everest (drums), Dom Luke (bass) and Ryan Kowalewski (guitar), are "completely independent and do everything themselves" including arranging their own accommodation for the tour.
"These days you can do a lot as an unsigned act if you put the time and effort in," said Russell.
"But I'm glad this tour is so close because we won't get to think about it and worry about it too much - we can just book our Travel Lodges and dive straight in."