Friends of Rowde crash victims raise air ambulance funds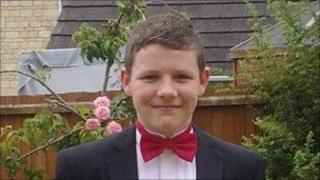 Friends of three Chippenham teenagers who died in a car crash have raised almost £23,000 for charity.
Frankie Bowyer, 16, George Forester and Jamie Walker, both 17, died when the car they were in hit a tree in Rowde near Devizes on New Year's Eve.
Friends of the boys raised the money in their memory via football matches, wrist bands and a tribute song.
A cheque for £22,912 was presented to the Wiltshire Air Ambulance charity at a fundraising event in Chippenham.
Fundraiser Joe Barker, 16, a friend of the three crash victims, said: "There are no words, no tears and no emotions that can show how hurt everyone is by it all.
"You've got to do the right thing afterwards, and the Air Ambulance went out to help the boys that night, so you've got to pay big respect to them for that."